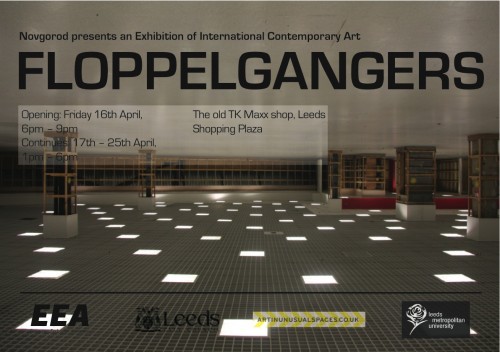 FLOPPELGANGERS
opening: Friday 16th April, 6pm – 9pm
continues: 17th – 25th April, 1pm – 6pm
the old TK Maxx shop, Leeds Shopping Plaza.
Novgorod proudly present their latest project, Floppelgangers, a showcase of international contemporary art curated in association with the European Exchange Academy.
Set in a disused retail space in the centre of Leeds the show reflects the resourceful ethos of the European Exchange Academy, promoting invention and initiative in the present cultural and economic climate where both artists and institutions are struggling for survival.
Spanning the boundaries of media, material and nationality, the show presents an exciting and challenging range of approaches, including Amsterdam-based artist Christopher Holloran's (GB) video dealing with the comedy of language barriers, and Israeli born Avi Krispin's sedate yet tongue-in-cheek critique of boredom.
Floppelgangers brings together an outlandish array of artists from across Europe, with the opening night involving one off performances and an appropriate slew of mayhem.
Artists involved in FLOPPELGANGERS include Inger Alfnes (NO), Markus Benedikt Becker (DE), Floris Bovee (NL), Ben Fowler (GB), Christopher Holloran (GB), Avi Krispin (IL) & Steven de Jong (NL) & Dafna Maimon (FI), Stefan Ruitenbeek (NL), Ollie Salmon (GB), Jack Piers Scott (GB), Fraser Stewart (GB), Sakari Tervo (FI), Philip Tonda Heide (DK), Nathalie Vanheule (BE), Samantha Wass (GB) and Josh Watts (GB)
www.novgorod.co.uk
www.eeacademy.eu