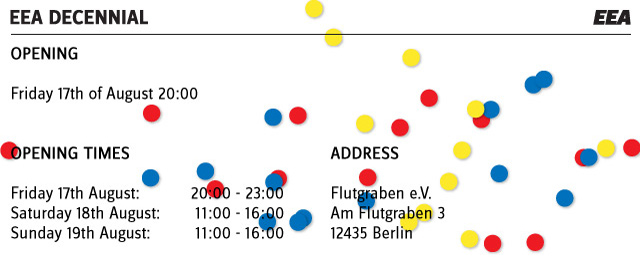 2012 marks the 10 Year anniversary of the European Exchange Academy (EEA). In celebration, a group exhibition featuring over thirty internationally established and upcoming young artists will take place in Flutgraben e.V. in Berlin.
The show will take place between the 17th of August and the 19th of August.
Opening Friday, 17th of August at 8 PM.
The European Exchange Academy, founded in 2003, is a five week intensive art course which takes place yearly in Beelitz-Heilstatten, a former tuberculosis-clinic near Berlin. Over the past ten years approximately 400 art-students from over 40 different nationalities from internationally renowned art schools have participated in the project. Each year, the participants are guided by 10-15 resident and guest advisors and artists, headed by Amsterdam based artist Harry Heyink.
The EEA alumni group show is curated out of project proposals from former participants and advisors of the EEA. Mixing together installations, prints, two dimensional work, sculpture, video projections and performances the show will reflect the devotion and spirit that embody the communitiy and network founded through the EEA.


participating artists
Anssi Pulkkinen
Lukas Hoffmann
Christopher Holloran
Rachel Heemskerk
Asaf Ben-Yehuda
Sirin Erensoy
Wayne Horse
Pepe Smit
Pilvari Pirtola
Johann Arens
Inge Meijer
Fraser Stewart
Jaakko Pallasvuo
Siarhei Tserasiuk
Nathalie Vanheule
Janneke Raaphorst
Susan Kooi
Henna Hyvärinen
Anna Rokka
Hannah Carpenter
Niels Bekkema
Tobias Karlsson
Konstanze Friederike Klecha
Aaron McLaughlin
Jasmin Patel
Ismay Wolff
Saana Inari
Andrea Zavala Folache
Tom Backe Rasmussen
Huub Vinken
Jan Pötter
Charlott Markus
Spike Raquette
Christine Bax
Julia Retz & Oskar Maan
Sarah Gerats