Pavilion
13/08/04 – 17/09/04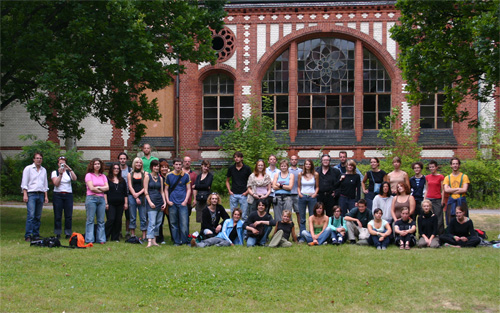 Participants
Inger Alfnes (N)
Mathilde van Beekhuizen (NL)
Asaf Ben Yehuda (IL)
Annelies van Camp (B)
Elizabeth Chadwick (GB)
Fairuz Chamman (B)
Wim Craeye (B)
Joana Da Mota (P)
Sarah Deboosere (B)
Phillipa Dyrlaga (GB)
Mariska De Mey (B)
Aukje Dekker (NL)
Filicia Grau (D)
Peter Hamilton (GB)
Pavel van Houten (NL)
Steven de Jong (NL)
Laura de Jongh (NL)
Jessica Kalbermann (IL)
Bas van Kempen (NL)
Esther Kempf (CH)
Peter Kortmann (D)
Avigail Krispin (IL)
Choki Lindberg (DK)
Kerrie McKinnon (GB)
Shelley Meert (B)
Michelle Meckel (D)
Hilke Muyldermans (B)
Nir Nadler (IL)
Jurgen Ots (B)
Stephanie Potter (GB)
Rachel Louise Taylor (GB)
Fabrice Schomberg (GB)
Gwen Vanderstraetten (B)
Judith van der Velden (NL)
Theodore S.C. Wilkins (GB)
Organisation & Staff
Harry Heyink (NL) Director Education EEA
Gerd Ohligschläger (D) Director Business EEA
Anja Masling (D) Office & Production
Bernd Trasberger (D) Workshops & Production
Advisors
Yariv Alter Fin (IL) Philosofie & Computer & Video
Greet Billet (B) Drawing
Marion Harrison (GB) Fine Art & Sociology
Harry Heyink (NL) Video, Film, Fine Art, Art Production
Gijs Muller (NL) Fine Art & Artist and Public Relation
Roderck Packe (GB) Photo & Art Theory
Bernd Trasberger (D) Sculpture & Setbuilding
Huub Vinken (B) Fine Art & Painting
Francis Vrancks (B) Film & Film Theory
Guest Advisors
Erik Alkema (NL) Drawing & Video-documentary
Thomas Ankersmit (NL) Sound & Performance
Paul van den Berg (NL) Performance, Theatre & Architecture
Constant Dullaart (NL) TV Art & Film Art
Tzvika Gutter (IL) Fine Art & Entertainment
Heinz Hermanns (D) Film & Filmdistribution
Sabine Jank (D) Film, Script & Production
Klaus Mertens (D) Architecture & Fine Art
Tilman Meyer-Faje (D) Public Spaces & Art Promotion
Pepe Smit (NL) Photo & Art Criticism
Academies
Gerrit Rietveld Academie, Amsterdam The Netherlands
Hogeschool voor de Kunsten Utrecht, The Netherlands
Universität der Künste Berlin, Germany
Leeds Metropolitan University, England
St Lukas Hogeschool voor de kunsten Brussel, Belgium
Projects
Checking In
Utopia
Portait Gallery
Miracle Chamber
Circulation Chamber
List and Horizon
Logo
Nature vs Urbanization
Having New Eyes
Soundlandscape
Hospital Collaboration
'60 Second' Video Festival
Writing
Model For Addition
Live Broadcast
MindRAP
You might wish
Talking and Eating
Reporter
Does My Work Work?
Exhibition
Evening Programme
3 Short-Film Evenings, choice of the advisors.
Film Lecture, Short-Filmfestival Berlin, Heinz Hermanns.
Art-Culture EEA04 Quiz Evening, Paul T van den Berg & Tzvika Gutter.
Lectures
Yariv Alter Fin (IL) Design & Art
Gijs Muller (NL) How to act.
Harry Heyink (NL) After the Academy.
Heinz Hermanns (D) Short Film-Festivals
Excursions
Infotour Beelitz-Heilstätten, Gerd Ohligschläger (D)
Architectonically Berlin, Klaus Mertens (D)
24 hr in the Nature, Harry Heyink (NL)
Nature vs Urbanization, Beelitz-Heilstätten / Berlin, Francis Vrancks (B)
Opening
Mr. Thomas Wardin, Bürgermeister der Stadt Beelitz.
Mr. Dr. Christoph Helm, Staatssekretär, Ministerium für Wissenschaft, Forsung und Kultur des Landes Brandenburg.
Mr. Harry Heyink & Mr. Ir. Gerd Ohligsläger, European Exchange Academy Beelitz.
Public Relations
Consept, European Exchange Academy Beelitz 2004 'Pavilion'
Cd-rom photograph file EEA03
DVD, EEA03
Flyer, 'Pavilion' 200 copy's
Digital Flyer; 'Pavilion'
Flyer, 'Beelitz-Heilstätten' 200 copy's
Digital Flyer, 'Beelitz-Heilstätten'
1st Press bullitin 11/08/04
Rundtour, Cultureel Artage Nederlandse Ambasade.
Reader, 'European Exchange Academy Beelitz 2004'
Reader, 'The Story of Beelitz-Heilstätten'
Rundtour and presentation, staff Klinieken und Rehabilitationsklinik für Kinder und Jugendliche 23/08/04
1st Press meeting 06/09/04, presentation and pressbooks.
3 Different invitations opening exhibition,'Pavilion' 1000 copy's
Digital Invitations exhibition, 'Pavilion'
Poster exhibition 'Pavilion' 150 copy's
Rundtour for Subsidisers and Sponcors 07/09/2004
2nd Press meeting 11-09-2003, interviews, photo's,
Radio en TV
Programme book and route description exchibition'Pavilion'
Rundtour for public exhibition, 12/09/04 – 17/09/04
EEA04 thanks letters and cards 'Pavilion' 100 copy's
DVD production
Yariv Alter Fin (IL) Design
Nir Nadler (IL) Design
Chaja Hertog (IL) Design
Fabrice Schomberg (GB) Design
Harry Heyink (NL) Production

To order a DVD, send an E-mail to: Harry@EEAcademy.eu